VCL-TP, IEC 61850 GOOSE over IP / MPLS
Description
VCL-TP, IEC-61850 GOOSE over IP / MPLS Teleprotection Equipment is a compact, 19-inch rack mountable equipment that is designed to serve the IEC-61850 compliant "Digital Substations" to provide "Distance Protection" over IP / MPLS links using IEC-61850 GOOSE messages instead of "binary" commands.
Send us a Message
The VCL-TP, IEC-61850 GOOSE over IP / MPLS Teleprotection Equipment incorporates the same level of "reliability" and "dependability" that the users have come to expect of the C37.94 based communication interface. Additionally, the VCL-TP, IEC-61850 GOOSE over IP / MPLS Teleprotection Equipment provides un-paralleled security, speed as well as all the advantages of an IEC-61850 GOOSE based system operating in a "Digital Sub-station" environment.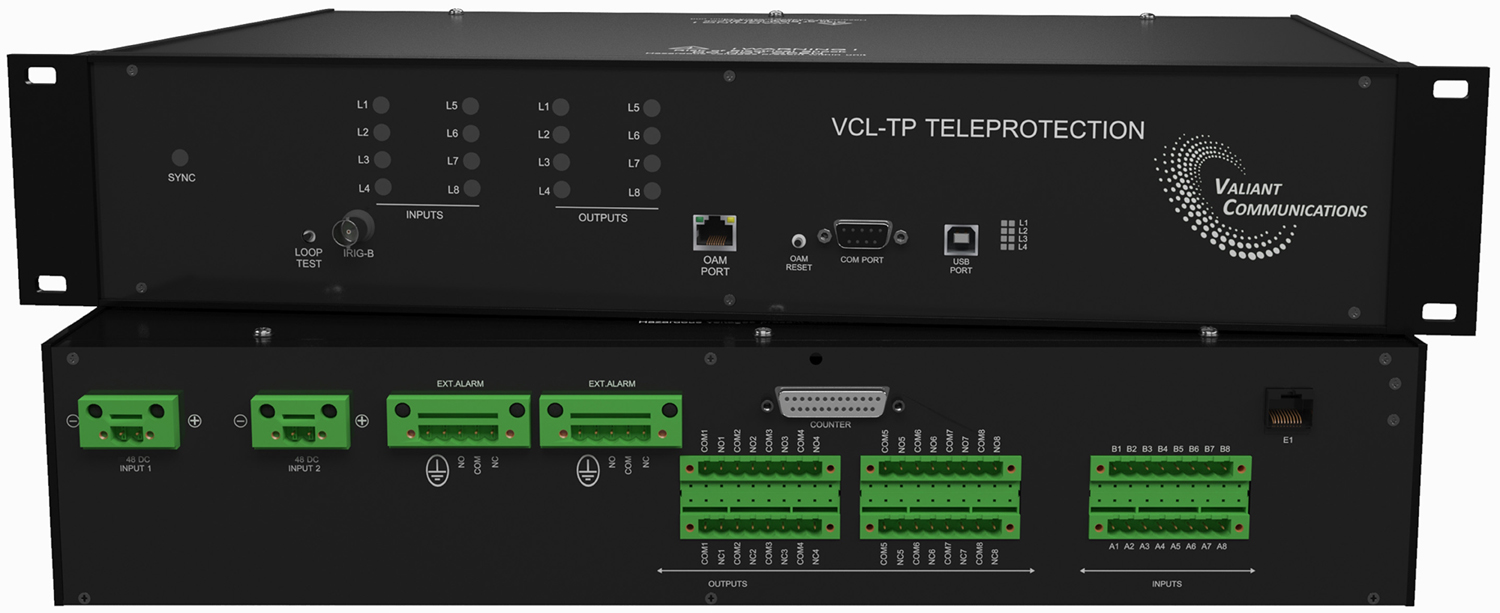 The VCL-TP-IP, GOOSE over IP Teleprotection Equipment is extremely fast and reliable "Distance Protection" device that offers up to 4, 2-way independent command channels which can be operated severally, or collectively over an IP / MPLS / Ethernet network with an extremely high degree of reliability and security. Additional features such as "Encryption" and "Firewall" have been incorporated to guard against any possibility of "cyber-attacks", making the equipment a best-in-class device.
Transmission interface options include:
Features and Highlights
Unrivaled Speed, Security and Reliability
Compact, standard 19-Inch Rack-mountable, 1U high chassis
Bi-directional Transmission of 4 command Inputs and 4 command outputs
Full Duplex Operation, Automatic loop test facility
Compliant with IEC 60834-1 standards
IEC 61850 GOOSE (Optical MM / SM; or RJ45 Electrical) support. PSCH.1 Distance Protection Scheme as per IEC-61850
Available with 24V DC, 48V DC, 110V DC, 220V DC, 250V DC, 110V AC and 220V AC and 1+1 Redundant Power Supply options.
Network Interface:
1 x 10/100BaseT, RJ45, IEC-61850-3 Compliant Port
Sub-Station Interface:
1 x 10/100BaseT, RJ45, IEC-61850-3 Compliant Port
1 x 100BaseFX, Optical (SFP)
Management and Monitoring:
RS232 serial, USB serial interfaces for local terminal access
10/100BaseT Ethernet Interface for remote access over an IP network
Encrypted Password Protection
Telnet - Remote access over IP links
SSH - Secured remote access using Secure Shell Protocol over IP links
IEC-61850 Compliant NMS, or SNMP Traps for real time remote monitoring over an Ethernet / IP network
Visual I/O status – LED Display
Dry contact external alarm relay to connect an external alarm on an annunciator panel, which can be wired up for either NO or NC condition.
Performance:
Less than 1ms command transfer time without "encryption"
Less than 3ms command transfer time with "encryption"
Reliability and Security:
Advanced Communication Protocol to ensure reliable transmission of commands
Built-In Firewall
Encrypted Transmission – User selectable option
Error Detection and Coding:
Line Code Violation Detection
Check-sum Verification – To determine integrity of all commands
LOS Detection
Time Clock and Time Synchronization:
Built-in real time clock (RTC) with >1 year battery backup in power down mode
>10 year battery life in powered up (trickle charge) mode
NTP Time synchronization option
IEEE-1588v2 PTP Time synchronization option.
Configuration and Access Command Language:
Command Line Interface (English text commands).
Teleprotection Standards and Compliances:
IEC 60834-1 (Teleprotection Command Systems)
Power Supply Options:
24V DC, range 18V DC ~ 32V DC
48V DC, range 36V DC ~ 70V DC
110V DC / 125V DC, range 80V DC ~ 140V DC
220V DC / 250V DC, range 80V DC ~ 300V DC
110V AC / 220V AC, range 80V AC ~ 264V AC
Voltage Withstand: Meets and exceeds IEC 834-1 and IEC 255 requirements
Dual / redundant power supply inputs and power supplies are also offered as an option
Short circuit protection
Reverse power input protection
Power Consumption: