4 x E1 Multiplexer - E1 Drop Insert (Add Drop) Voice Data PCM Multiplexer
Available in Standard and Deluxe Versions
Valiant's E1 Multiplexer the VCL-MX, 2Mbps E1 voice and data, drop-insert (add-drop) PCM multiplexer Version 2 is available in two Versions. They provide a range of voice (POTS) and digital data services to subscribers located at different locations, requiring to interconnect and establish a voice and data network over an E1 link. The VCL-MX is available in 4 versions, each providing different features and voice / data interfaces.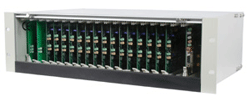 The VCL-MX, E1, Drop-Insert PCM Multiplexer provides voice telephony and digital data services which may include:
The Multiplexer may be used in Terminal or Drop-Insert configuration to provide
Toll Quality Voice services
Interconnect LAN (Campus Network)
Provide LAN-WAN Interconnectivity
Provide Leased Lines on DSL for SOHO Applications
VCL-MX, Version 2 - Deluxe Version system includes the advanced features and capabilities, listed below:
2Mbps, 4 E1 non-blocking cross-connect at 64Kbps (DS-0) level
1+1 Redundant Power Supply
May be used in a Point-to-Point, Point-to-Multi point, Add-Drop (drop-insert), Tree and Star topology
Telnet
SNMP V2
In-band and Out-of-band management
GUI
Network Management System (Monitor and configure multiple units from a single central location).
Equipment Maintenance and Management features of the VCL-MX, Version 3 (Deluxe Version)
Serial Management Port (RS232) – COM Port
TCP/IP - 10/100 BaseT for remote management over a LAN / TCP/IP network
SNMP V2 (MIB File provided with the equipment)
Telnet - CLI (Command Line Interface)
Graphical User Interface (GUI)
Network Management System (to monitor multiple units from a single central location).
Interfaces
Voice Interfaces
Voice Interfaces
FXO
FXS
E&M (2Wire / 4Wire)
FXS-FXS (Hot-Line)
Ring Generator (75V RMS)
Data Interfaces
RS232
G.703 @ 64 Kbps, co-directional
Synchronization
Timing Options - Internal Clock, Loop-Timed Clock, External Clock
Synchronization Sources - Internal Clock, span clock timing derived from incoming HDB3 links (Loop-Timed), External Clock, 75 Ohms 2 MHz (TTL), 2.048 Mbps (BITS) Clock.
Default Option - Internal Clock (Stratum 3)